TIPS AND DOUBTS
Portuguese/Português
g1.globo.com/bemestar/coronavirus/noticia/2021/03/12/como-usar-a-mascara-pff2n95-veja-respostas-para-17-duvidas-sobre-o-modelo-mais-eficiente-contra-a-covid.ghtml
g1.globo.com/bemestar/coronavirus/noticia/2021/03/11/mascaras-ineficazes-contra-o-coronavirus-nao-serao-permitidas-em-aeroportos-do-brasil-decide-anvisa.ghtml
saude.estadao.com.br/noticias/geral,saiba-como-usar-mascaras-n95-e-pff2,70003642443
saude.estadao.com.br/noticias/geral,testes-de-covid-19-nas-farmacias-veja-os-tipos-e-precos-disponiveis,70003642918
g1.globo.com/bemestar/coronavirus/noticia/2021/01/08/covid-19-qual-mascara-e-melhor-veja-comparativo-segundo-estudo-publicado-na-science.ghtml
Aliviando sintomas respiratórios do COVID
g1.globo.com/ac/acre/noticia/2021/02/15/pesquisa-aponta-eficacia-em-tratamento-de-300-pacientes-da-covid-com-bicarbonato-de-sodio.ghtml
ABOUT
Desiring to buy masks, I've done some research that I've decided to share.
The FDA regulates surgical masks and surgical N95 respirators differently based on their intended use.
A surgical mask is a loose-fitting, disposable device that creates a physical barrier between the mouth and nose of the wearer and potential contaminants in the immediate environment. These are often referred to as face masks, although not all face masks are regulated as surgical masks. Note that the edges of the mask are not designed to form a seal around the nose and mouth.
An N95 respirator is a respiratory protective device designed to achieve a very close facial fit and very efficient filtration of airborne particles. Note that the edges of the respirator are designed to form a seal around the nose and mouth. Surgical N95 Respirators are commonly used in healthcare settings and are a subset of N95 Filtering Facepiece Respirators (FFRs), often referred to as N95s.
The similarities among surgical masks and surgical N95s are:
They are tested for fluid resistance, filtration efficiency (particulate filtration efficiency and bacterial filtration efficiency), flammability and biocompatibility.
They should not be shared or reused.
General N95 Respirator Precautions
People with chronic respiratory, cardiac, or other medical conditions that make breathing difficult should check with their health care provider before using an N95 respirator because the N95 respirator can make it more difficult for the wearer to breathe.
Some models have exhalation valves that can make breathing out easier and help reduce heat build-up. Note that N95 respirators with exhalation valves should not be used when sterile conditions are needed.
NOTE:
1. Valves are not allowed at airports as concerns COVID-19 prevention.
SEE: note added by the author based on Brazilian laws:
g1.globo.com/bemestar/coronavirus/noticia/2021/03/11/mascaras-ineficazes-contra-o-coronavirus-nao-serao-permitidas-em-aeroportos-do-brasil-decide-anvisa.ghtml
2. Also, CDC does not recommend using masks with exhalation valves or vents. The hole in the material may allow your respiratory droplets to escape and reach others. Research on the effectiveness of these types of masks is ongoing.
All FDA-cleared N95 respirators are labeled as "single-use," disposable devices. If your respirator is damaged or soiled, or if breathing becomes difficult, you should remove the respirator, discard it properly, and replace it with a new one. To safely discard your N95 respirator, place it in a plastic bag and put it in the trash. Wash your hands after handling the used respirator.
N95 respirators are not designed for children or people with facial hair. Because a proper fit cannot be achieved on children and people with facial hair, the N95 respirator may not provide full protection.
Some masks work better than others to help slow the spread of the virus that causes COVID-19. Note: N95 respirators approved by CDC's National Institute for Occupational Safety and Health (NIOSH) should not be used outside of healthcare settings because they should be reserved for healthcare personnel.
Medical procedure masks (sometimes referred to as surgical masks or disposable face masks)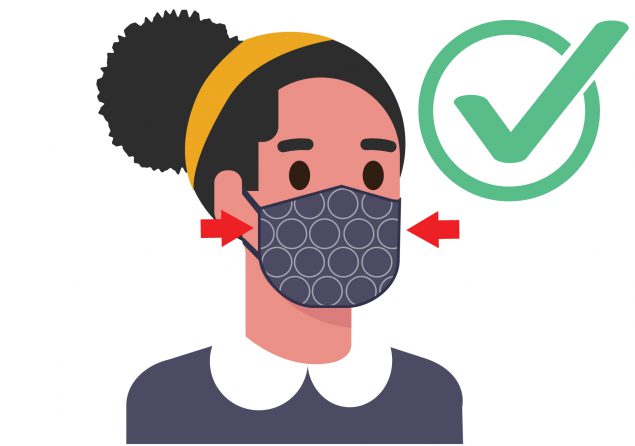 Masks that fit properly (snugly around the nose and chin with no large gaps around the sides of the face)
Masks made with breathable fabric (such as cotton)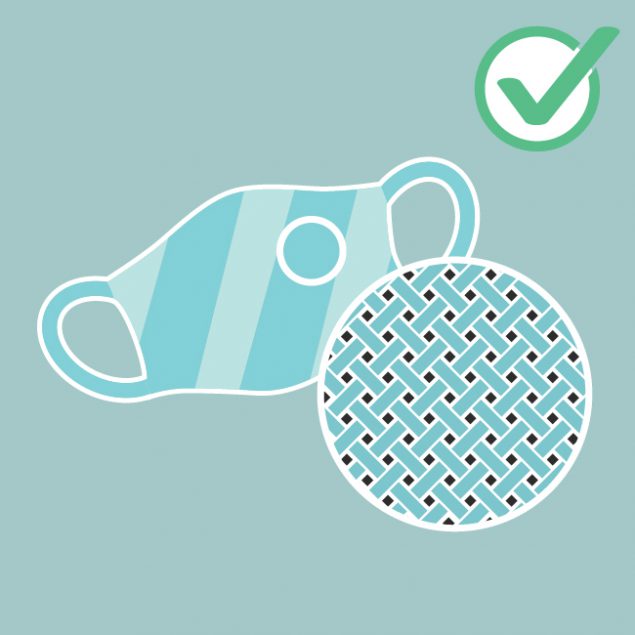 Masks made with tightly woven fabric (i.e., fabrics that do not let light pass through when held up to a light source)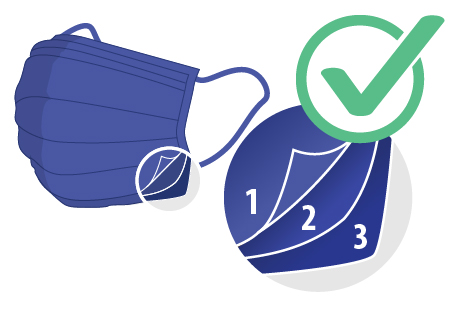 Masks with two or three layers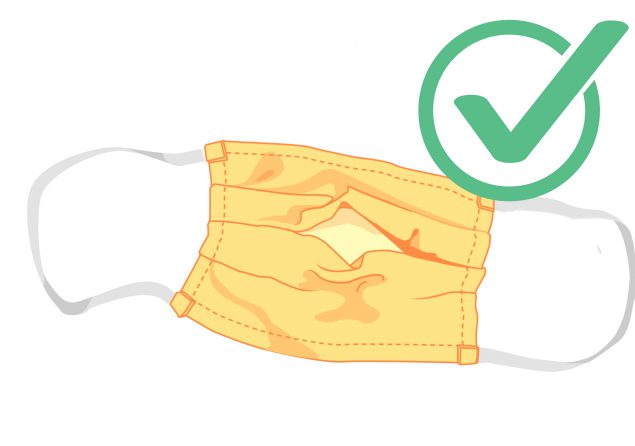 Masks with inner filter pockets
Masks that do not fit properly (large gaps, too loose or too tight)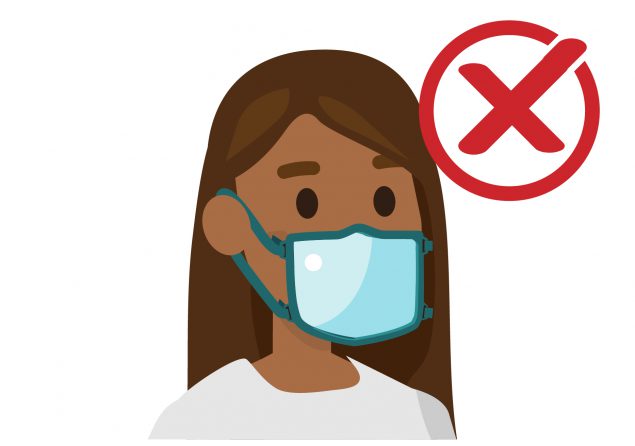 Masks made from materials that are hard to breathe through (such as plastic or leather)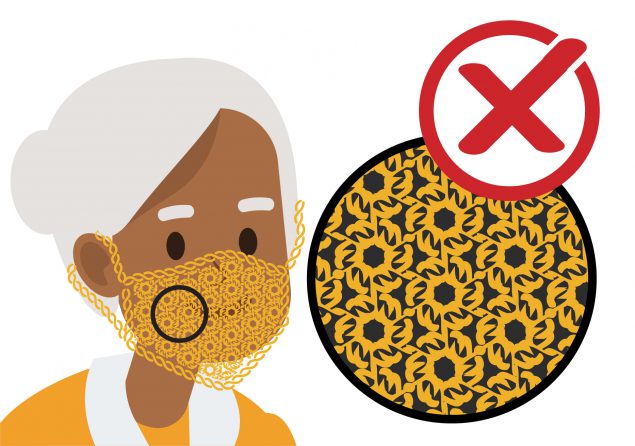 Masks made from fabric that is loosely woven or knitted, such as fabrics that let light pass through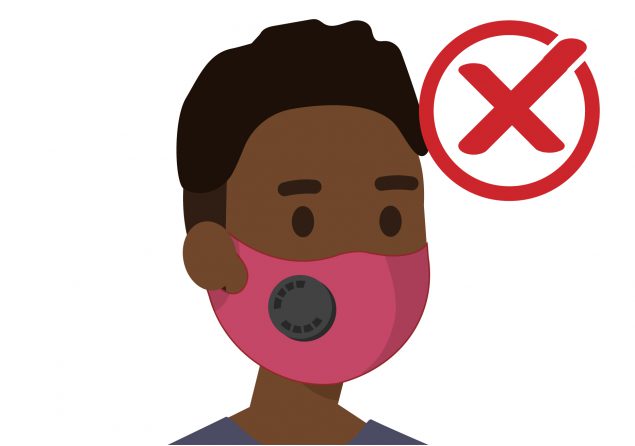 Masks with exhalation valves or vents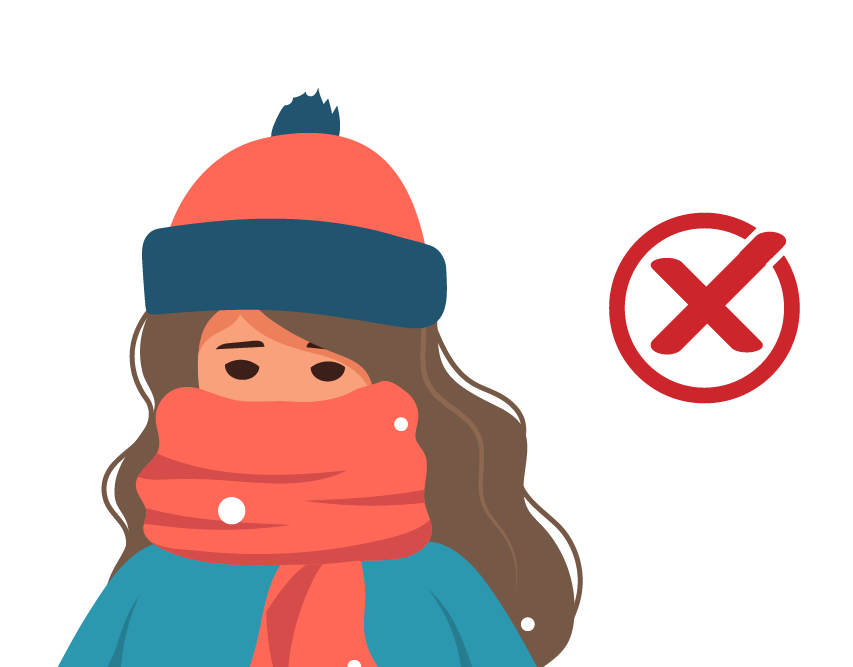 Masks with exhalation valves or vents
CDC does not recommend using masks with exhalation valves or vents. The hole in the material may allow your respiratory droplets to escape and reach others. Research on the effectiveness of these types of masks is ongoing.
NIOSH-approved N95 respirators
Do not use NIOSH-approved N95 respirators that are meant for healthcare workers. NIOSH-approved N95 respirators are critical supplies that should be reserved for healthcare workers and other medical first responders to prevent supply shortages.
CDC does not recommendexternal icon using face shields or goggles as a substitute for masks. Goggles or other eye protection may be used in addition to a mask. Do NOT put a plastic face shield (or a mask) on newborns or infants.
Face shields and goggles are primarily used to protect the eyes of the person wearing it. Goggles do not cover the nose and mouth. Face shields are not as effective at protecting you or the people around you from respiratory droplets. Face shields have large gaps below and alongside the face, where your respiratory droplets may escape and reach others around you and will not protect you from respiratory droplets from others. However, wearing a mask may not be feasible in every situation for some people.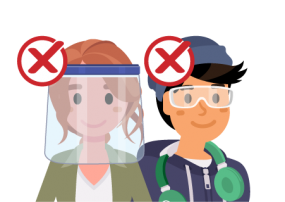 #FAKES
#TYPES OF MASKS AND CERTIFYING AUTHORITIES
@MY: from text, we conclude that KN95 fits better.
The Federal Drug Administration and Centers for Disease Control have both approved the use of KN95 masks in the cases of N95 shortages, but appearances aside, there are two major differences between the masks: First, the American-manufactured N95 masks can withstand a slightly stronger pressure as the person wearing it inhales and exhales, according to infectious diseases specialist Dr. Michael Rajnik. Also, the KN95 mask just fits differently than the N95s.
"Fit is of maximal importance," Rajnik told the Herald, but said KN95s were "adequately equipped" for doctors and physicians if they are produced by legitimate medical manufacturers like 3M.
"It feels different. It feels looser," said Boucher, who confirmed Tufts Medical Center received the Kraft's donation, including KN95s. "A respirator mask makes a tight feel on your face."
But even with the N95 masks, Rajnik said, it's out of the question to expect optimal use when fighting a virus of pandemic proportions. Workers using N95 masks typically get fitted for a particular type of respirator size and model, but those specifications just aren't realistic when hospitals become overrun with critically ill patients.
Boucher said Tufts has not yet replaced any N95 masks with the KN95s, but experts are investigating ways to make the KN95's face seal tighter for health care workers. Right now, she said, KN95s can certainly be used like regular surgical masks, at the very least.

ADA COVID-19 Understanding Mask Types.pdf
Mask Rating Systems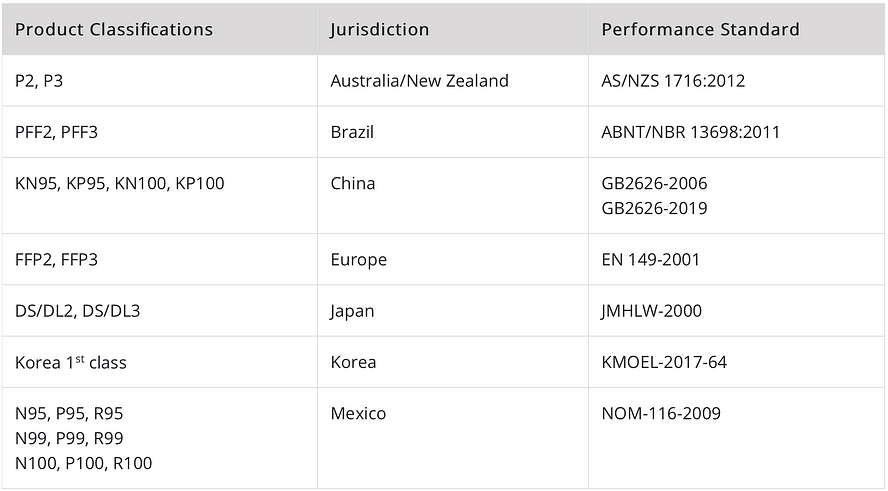 'Respirators with similar performance requirements to NIOSH-approved devices' (CDC). However, there is still limited testing on these standards by CDC, and N95 is recommended where possible.
The biggest factor that makes understanding mask ratings so difficult is the number of different systems. The most commonly known mask rating is the NIOSH system, which rates masks as N95, N99, and N100. These masks are rated by the American National Institute for Occupational Safety and Health, which is part of the CDC.
But did you know that this is only the tip of the iceberg? Not only does the NIOSH also certify R and P rated masks, but there are also 5 other commonly used mask rating systems. Although knowing the NIOSH rating system is normally enough, in times when stocks are low knowing the other mask ratings can come in handy. After all, N95 masks are usually the first to sell out.
The most important rating systems to know are the NIOSH ratings (N95), and Europe EN (FFP2). These are the most commonly found masks and most other rating systems are based on, or closely follow, the guidelines of these respirators.
U.S NIOSH Ratings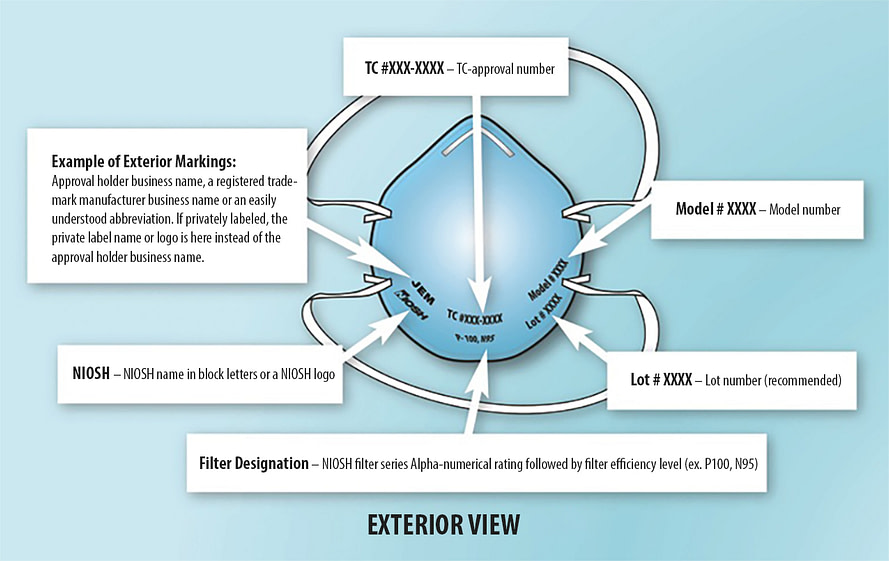 NIOSH masks should always have the above markings. CDC.
NIOSH rated masks are the most common masks that you will usually find. These masks come in three different letter variations, N, R, and P. These letters will be followed by a number, making a rating such as N99, R95, or P100. But what do these letters and numbers mean?
Luckily, the number is easy to understand. The number on a NIOSH rated masks signifies the filtration effectiveness of the filter. For example, an N95 mask is required to stop AT LEAST 95% of particles of 0.3 microns in size.² An R95 mask will also filter out at least 95% of 0.3-micron particles.
The only difference comes in with N100 and P100 rated masks. Complete filtration is at this point impossible, and a 100 rated mask is effective at stopping 99.97% of 0.3-micron particles.³
In other words, the higher the number the better the filtration efficiency. To be put even more simply, the higher the number, the better. In terms of filtration, the letter before the number doesn't matter – an N100 and P100 mask are rated to filter the same percentage of particles. The same goes for N95 and R95 masks.
Best N95 rated respirators – 3M 8511 N95 | 3M 8210 N95
On 09-05-2020 | Read time about 6 Minutes
---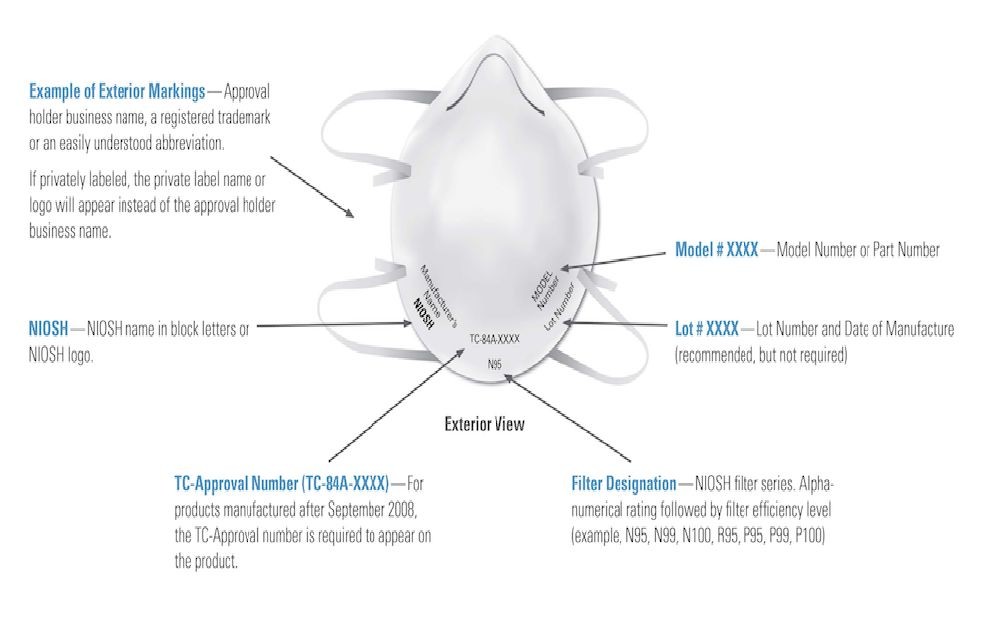 Respirators (N95/KN95, N99, FFP1, FFP2 and FFP3 Masks) that may not be capable of providing appropriate respiratory protection to health care workers are being falsely marketed and sold as being FDA certified and/or NIOSH (National Institute for Occupational Safety and Health) approved. In the month of April, 39 million masks were exposed as fake.
Making sense of the numbers on the mask:
The letters and numbers are standards for masks. They specify the rules and testing methods companies should follow to rate their masks.
FFP1 is a standard used across Europe for masks that have filtration effectiveness of 80%, while FFP2 is a standard used across Europe for masks that have filtration effectiveness up to 94%. Similarly, N95/KN95 is used across the USA, with filtration effectiveness of 95%.
| | |
| --- | --- |
| RESPIRATOR STANDARD | FILTER CAPACITY (% of particles 0.3 microns or larger in diameter filtered) |
| FFP1 and P1 | At least 80% |
| FFP2 and P2 | At least 94% |
| N95 | At least 95% |
| N99 and FFP3 | At least 99% |
| P3 | At least 99.95% |
| N100 | At least 99.97% |
For FFP1/FFP2 masks, it is vital to ensure that any certificates you receive are correctly titled 'EU type examination certificate' and that they are issued by a competent Notified Body. The identification number of the Notified Body must also be included in the EU type examination certificate. A full list of Notified Bodies is available on the NANDO database. You can also check the authenticity of certificates through the BSI Certificates and INSPEC Certificates portals.
For NN95/KN95 masks, before buying large quantities of respirators from third party marketplaces or unfamiliar websites, learn how to identify NIOSH-approved respirator:
An abbreviated approval will be on the packaging as well as the mask/respirator itself. You can verify the approval number on the NIOSH Certified Equipment List (CEL)
An authentic N95 mask has markings as shown in the image above. Check for these labels at standard locations of a certified N95 respirator.3M 8210 is the most classic and popular N95 disposable respirator. It provides at least 95% filtration efficiency of non-oil based particles with NIOSH (National Institute for Occupational Safety and Health) approval.
On the bottom of 3M product box, just under the bar code or on the roll, you'll see a 10-digit secure code and a 6-digit lot code. These codes are unique to every box. Enter your codes
here
. A green checkmark means the product is genuine. A yellow or red symbol indicates that your product may be counterfeit.
Warning signs that a mask or respirator may be fake/counterfeit:
No markings on the facepiece of the mask
No NIOSH approval (TC) number on the N95 or headband
No NIOSH markings
NIOSH spelled incorrectly
Presence of decorative fabric or other decorative add-ons (e.g.,sequins)
Claims that the mask is approved for use in children (kids)
The N95 mask has ear loops instead of headbands
FDA logo on the box- FDA does NOT allow a vendor to put the FDA logo on the box of a respirator.
FDA registration certificate as proof of "FDA approval"
Other possible signs on third party marketplaces/websites:
The seller/dealer doesn't have any transactions history or public review/feedback
Too good to be true statements or price deviations
Suppliers claim that the mask is 'FDA approved' – FDA doesn't approve N95 masks. Official companies use the term 'FDA-cleared'.
Bad grammar, typos, and other errors
Primary email the dealer uses a free email service e.g. gmail
Suspicious feedback and reviews gathered over a short period of time- check dates of reviews and feedbacks.
Buyers must understand that FDA has a two step process. ANY company can REGISTER their product with FDA before getting clearance. Registration of an equipment establishment or assignment of a registration number does not in any way denote approval of the establishment or its products. Many companies mislead buyers to believe that masks are FDA-approved by submitting an FDA registration certificate as proof. FDA registration is NOT FDA approval.
Some companies known to have sold fake, counterfeit masks claimed to be N95 certified are
1. Sound
A company by the name of 'Sound' have been distributing masks that are not NIOSH approved. The company uses Shanghai Dasheng Health Products Manufacture Co. Ltd's (SDH) NIOSH approval number, TC 84A-4335, without their permission.
2. NIOSH N95 respirator mask
This is another company using Shanghai Dasheng Health Products Manufacture Co. Ltd's (SDH) NIOSH approval numbers without their permission.
3. G & F
G & F Products have misrepresentedNIOSH approval and are on sale in many Asian countries. G & F masks are not a NIOSH approved or a private label holder.
4. Maskin
Any respirators being sold as Maskin are no longer NIOSH approved. They are counterfeit or they are no longer compliant to the NIOSH approval.
5. Shenzhen Ende Medical Technology Co., Ltd.
Shenzhen Ende Medical Technology Co., Ltd. is NOT a NIOSH approval holder. Any N95 filtering facepiece respirators from Shenzhen Ende claiming to be NIOSH-approved or accompanied by these documents are NOT NIOSH approved.
Others companies selling UNCERTIFIED masks claiming to be certified:
Zubi-Ola
ViraMask N99ESC (Wein products)
FitSeal
NT-V2 Nano Bi-Directional respirator
Benehal
Pacifico Salud SAC
Ranger 821 and Ranger 821V respirators by Valpro Safety
Vogmask®
PitBull Safety Products
Anhui Tongcheng YaGe Health Materials
The Guangzhou Weini Technology & Development Co., Ltd. (GWT) respirator with model number K320
Yark
Kaku
Medicos
Companies known to not be competent for PPE (masks specifically) under European standards for FFP1, FFP2 and FFP3 include:
ICR Polska
CELAB
ECM (Ente Certificazione Macchine)
ISET (Instituto Servizi Europei Technologici)
NPS
Amtre Veritas
STS Inspection and Certification
VIC Testing and Certification
BSI Test Limited
ISP (UK Inspec International)
Ecole Supérieure du Bois
Sapo (Sapo Certification & Testing Laboratory Limited)The above is not an exhaustive list of companies selling uncertified masks. So please use your discretion to check the product as well as the relevant databases and certification before purchasing N95/KN95, N99, FFP1, FFP2 and FFP3 Masks and respirators.For more dental practice guidances during COVID-19, read our COVID 19: Patient & Dental Professional Safety category of posts.
#N95
Yes, N95 masks or respirators as they are also known can protect against the virus. Unlike surgical masks, the N95 is thicker and handy in helping to prevent the spread of the disease. The CDC opines that this mask if worn correctly, can filter out 95% of airborne particles.
They boast the ability to keep at bay particles whose size is less than 0.3 micrometers. Isn't that impressive? To ensure the mask works as it ought to, you need to ensure it maintains its function and fit.
thewifechoice.com/how-long-n95-masks-last-reusable/
#REUSABILITY
You can use the N95 mask for many hours uninterrupted. The respirators can perform optimally for eight hours of intermittent or nonstop use. Regular replacement is necessary.
thewifechoice.com/how-long-n95-masks-last-reusable/
#SUPPLIERS – CANDITATES
Currently unavailable.
We don't know when or if this item will be back in stock.
20210113